SO, only the first two paragraphs of this are true, the rest is fiction for the sake of my puppetry project. Nicole cried her eyes out last night reading it out loud, partly because I was pulling her hair in an attempt to French braid it and partly because she thought it was so funny. It's probably not really funny to the outside world, but whatever. She said I should publish it somewhere, so here it is.
~~~~~~~~~~~~~~~~~~~~~~~~~~~~~~~~~~~~~~~~~~~~~~~~~~~~~~~~~~~~
A Brief History of Catfish Productions: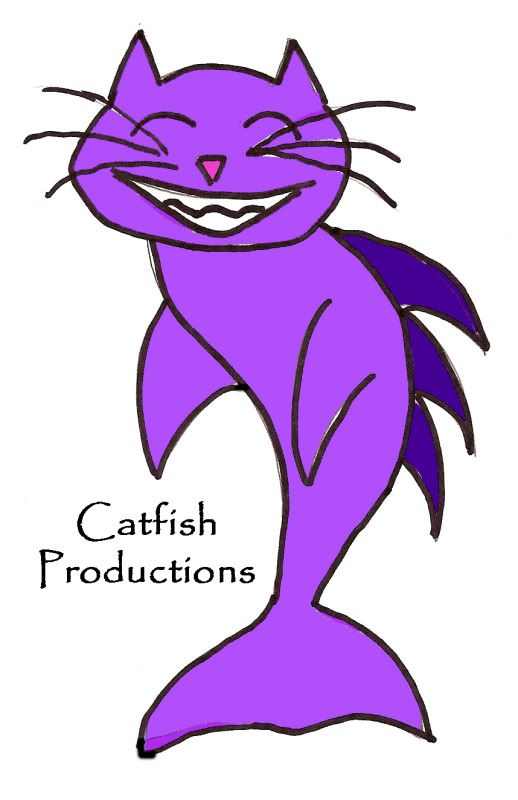 Catfish Productions is the brainchild of Maria Goodson and Nicole Bartow, college roommates and longtime creative team. The name came across one sunny day when Nicole and Maria were celebrating a successful day of shooting a music video to 'Total Eclipse of the Heart' over lunch at a Garfield's restaurant. Both girls felt they should have a name for themselves since they had many projects in the works and infinite many more ideas. The origin of the name went like so:

Nicole- "Lets name our company Catfish."
Maria- "Why Catfish?"
Nicole- "Why not?"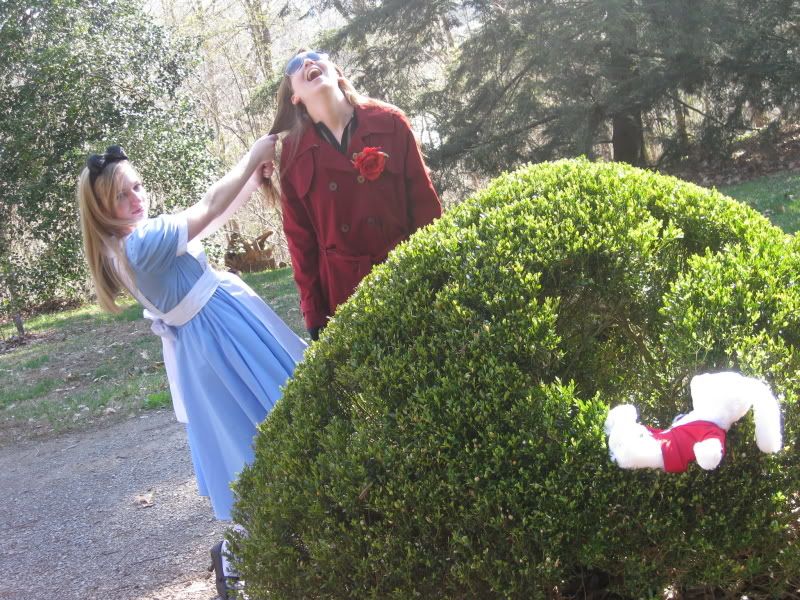 And thus Catfish Productions was born. Nicole quickly scrawled an adorable catfish drawing on the paper table cloth with the crayons provided for impatient children and the team was off to a memorable start. Catfish continued creating in their favorite mediums, written works (children's and young adult stories and novels), photographs (Alice in Wonderland photo shoot) and short films (mainly music videos), until one day when Maria signed up for an Intro to Puppetry class and the scope of their creative genius expanded even further.

Nicole and Maria were content with their small scale success and low audience visibility until one fine day they were struck with the sort of luck the pair had never seen before and were never likely to see again. Walking on High street in downtown Morgantown West Virginia (where they both attend WVU) the pair noticed an old bag women being hassled and beaten by a group of high school boys. Nicole and Maria rushed to the women's aid and chased off the boys, helping the old women to her feet. She turned out to not be a bag woman at all, but Ms. America Lisette, undercover writer and fulltime millionaire, doing research for her newest book, 'If My Bags Could Talk.'

Ms. Lisette took a liking to the girls and bought them espresso milkshakes at the Blue Moose coffee shop. The new friends all swapped stories, Ms. Lisette telling the girls about her new book and Catfish talking about their new interest in puppetry. Ms. Lisette happened to be a long time lover of the Muppet Show and decided to fund all of Catfish Production's further projects. "Besides," she said, "I'm a millionaire, what else am I going to do with my time? Work? That's a laugh."

The generous funding of America Lisette is what made 'Skye' a possibility. Maria had been sitting on the story ever since her senior creative writing Capstone project and always dreamed of making it a movie some day. Maria and Nicole hope to show the world the importance of having an imagination and in turn spark said imagination in children and adults across the world.
Catfish Productions have moved from the hallway between Nicole and Maria's bedrooms at WVU to a spacious facility in Washington DC, a hop skip and a ways away from Maria's hometown of Lovettsville Virginia. Along with their shiny new building, the girls have hired hundreds of the world's best puppeteers to work for them in their studios and make their puppet movies the success they are today. Nicole, being the resident expert with a video camera, has also put together a top notch team of cinematographers, videographers and all around filming geniuses to shoot Catfish's movies to perfection.

Meet Catfish Productions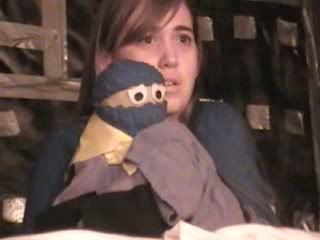 Maria is a writer of children's stories and lover of graveyards. She is about to have a BA in English with a concentration in creative writing and before America Lisette's money, had no future prospects. She will be forever indebted to Ms. Lisette for enabling her to bring her work to Sundance, something she has always dreamed of doing. She enjoys reading a great deal as well as going to the movies, traveling overseas and dreaming of all the things she may one day become.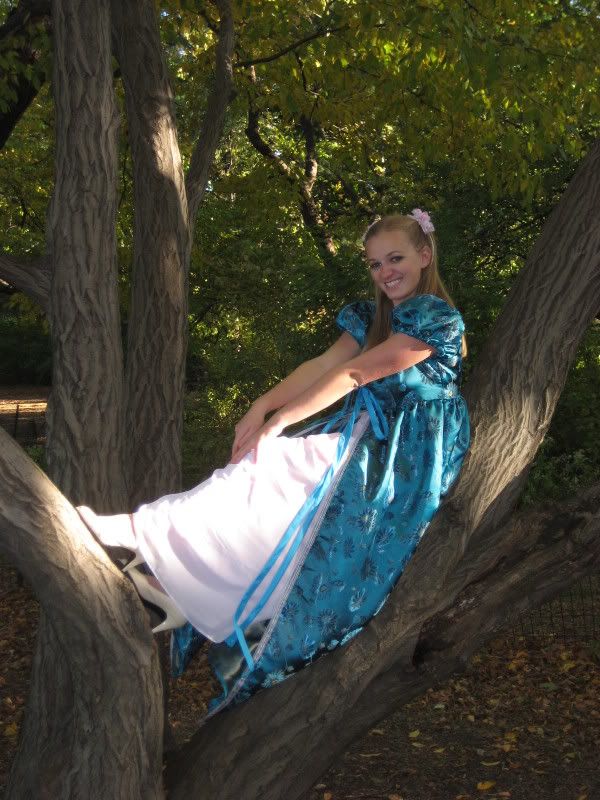 Nicole Bartow also goes by the pseudonyms of Giselle, Jocelyn, and Alice in Wonderland. She is a writer of young adult urban fantasy novels, a Disney Character Performer, and by night is a Clinical Psychologist-in-training. She has America Lisette to thank for turning her "pipe dreams" into reality. In addition to putting her Psychology BA and Creative Writing minor to good use, Nicole enjoys the feel of the ocean and the taste of champagne.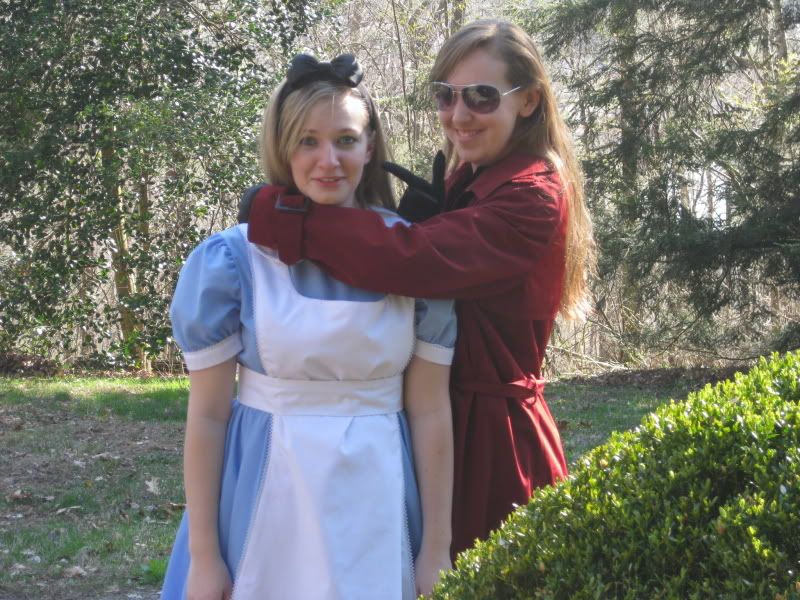 Catfish Productions
~~~~~~~~~~~~~~~~~~~~~~~~~~~~~~~~~~~~~~~~~~~~~
I think 'if my bags could talk' really got her. Alright, better go finish the project. That might be a good idea.
~major7th~