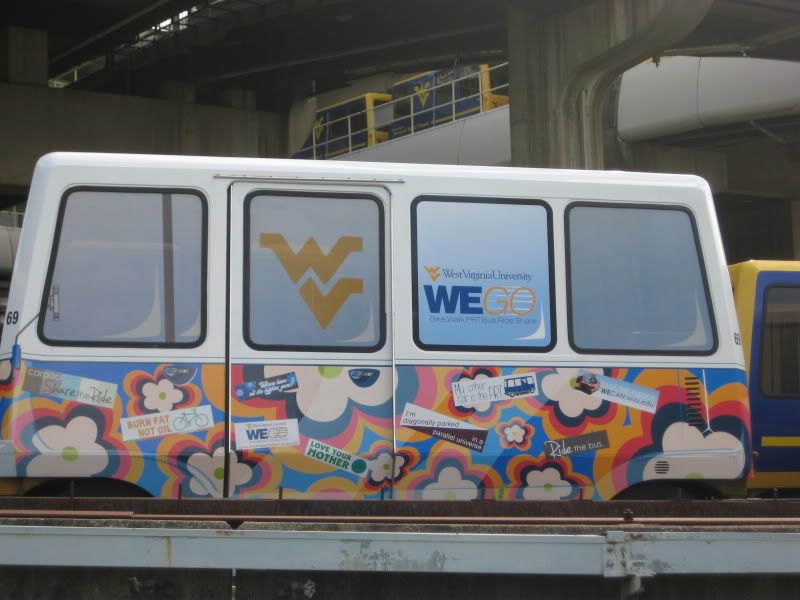 Prt.
SO you know when something weird happens that makes you feel like you're magic? This is probably just me, but this happens to me ALL the time. And I am not talking 'first kiss magic' or 'love at first sight magic', nothing lame like that, I mean littler things. For example, last week Nicole and I watched Mary Poppins. Truly a quality film. But the entire time we were watching it I kept thinking of the movie Bed knobs and Broomsticks. I think we had Mary Poppins and Bed knobs and Broomsticks taped from TV when I was little and we watched them around the same time, so they make me think of one another. Anyway, I kept talking about this movie to Nicole, describing the little I know about it, and she had no idea what I was talking about. After a while I was completely convinced that I was the only person in the world who had seen the movie or even heard of it for that matter, and put it out of my mind.
Then last night, Jen and I went shoe shopping at 9pm. I needed a pair of shoes to wear with my dress for graduation, says my mom, so I did what I was told and went to find some. I do as I'm told. On the way back to Jen's place after finding not one but two awesome pairs of shoes (one practical, the other sort of stupid, yet amazing in a 'these are totally space shoes and I bet they have rockets in the bottoms!' sort of way) and we were talking about this and that. We got on the topic of my blog, of which she is a faithful reader, and eventually we were talking about netflix. We were talking about our categories and how funny they aren't lately (man that's wrong; I'm leaving it) and then out of nowhere Jen mentioned how she was thinking about Bed knobs and Broomsticks the other day and found it on netflix. I flipped out. One, this is the most random movie on all time, two, why would it come up in my life again without my prompting for the second time in two weeks or all times in life? There is only one explanation; I'm magic.
But really, this happens to me all the time. I always mean to write it down when it happens but I never do. When I was in New Zealand last summer Molly took me to a thrift shop. There was this song on the radio about cowboys; I can't remember the title. I was flipping though the black t-shirt section (they were organized by color) to find an All Blacks shirt and I come across a shirt that had the enact lyrics of the cowboy song that was playing on the radio. I don't know why I remember that of all the times this weirdness happens to me, it just got stuck in my head.
It even happened this morning. I was looking though my blogs an started reading Postsecret a bit, you know, those postcards that people write their deepest darkest secrets on and then send to this PostSecret place to get published? Anyway, I was reading thourgh the Sunday Secrets, thinking about my hair. I was thinking that I should probably bobby pin my bangs back to go under my mortarboard today since it is the most awkward hat in the history of the world and no hair style will never survive it's clutches. I was thinking of this last night, that the best way to preserve the hair, most importantly the bangs, would be to bobby pin them out of the way. I was thinking about this, trying to remember to ask Jen when she wakes up if I can borrow a poppy pin, when I read this Postsecret: "I left a bobby pin behind on purpose, so she would see it." That's not exactly what it said, but still, what's with that?
In conclusion, I must be magic. I wish I could remember some other times it happens, but like I said, they always slip my mind. I don't know what this magic power of mine does really besides weird me out sometimes, but I am determined to harness its powers and use them for good. Maybe I am just a Jedi. Most likely. Speaking of Star Wars, I have the best friends. Jen made me a clip board shaped like a speech bubble with a Neil Gaiman quote on it and Liz got me a new clear plastic umbrella, a kit to find inspiration for writers and she gave me her copy of the original Star Wars soundtrack box set. I almost cried. She got it from her brother and is now passing it on to me. My brother has this exact box set, but his is all falling apart and most of the CD cases are cracked. Now I have my own, in perfect condition. Oh man, the Neil Gaiman clip board almost made me cry too, it is adorable. I have the most thoughtful friends.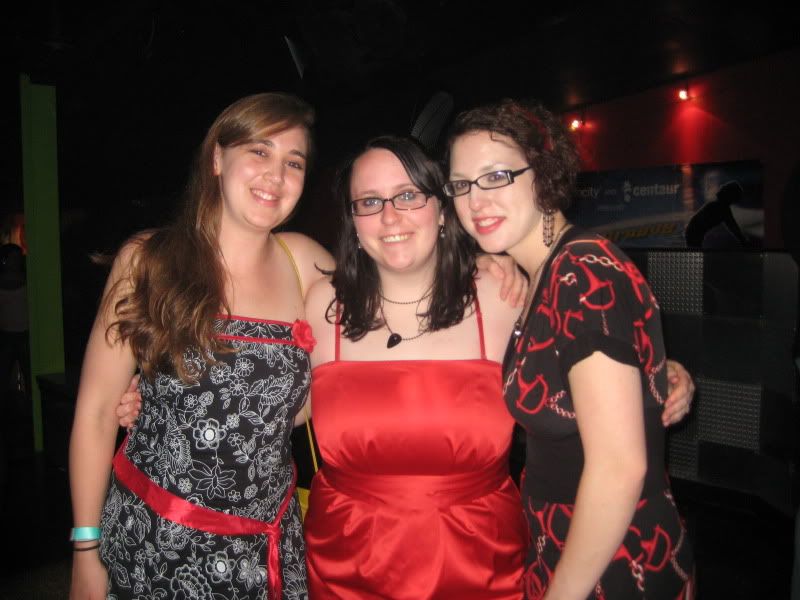 Me, Jen and Liz.

Since this blog has sort of gone on a tangent, I will let it take over and say what it wants. I am really into Dick Van Dyke at the moment. I never realized when I was little how ADORABLE he is in Marry Poppins as Bert, but he really is. I would so marry that guy, SO cute.

Still tangent-ing: In case it has ever bothered anyone that I tend to start sentences with "and' and 'but' sometimes, let me defend myself a little. Senior year of high school my English teacher, the former Mrs. Austin Kelly, now just Ms. Kelly, told us that rules like that are only meant for kids just learning how to write. She says that once you know the rules and follow them correctly, you are allowed to break them. So I do, often, and since being in college no teacher has ever said anything to me about it. Must be ok then. I enjoy a good incomplete sentence as well, as you can see, but as a creative writer, author in training, I feel not all my sentences have to be complete. As long as I know it is not complete, I'm fine. Emily Dickenson put loads of unnecessary punctuation in her poems and Kurt Vonnegut wrote 'so it goes' near a hundred times in Slaughterhouse Five, so I think I am safe. Actually, I think 'so it goes' is a complete sentence. Hum. Some English major I am. Well, I'm not really anymore; I'm a real person now. Some real person I am.

So that picture up there was taken the other night at Vice Versa, the gay bar here in Morgantown. This place rules, it's so fun, and I hate clubs and bars. This place is also probably why I don't have a boyfriend and why the only guys I know are all gay, but that's ok because they are all awesome. And yes, we matched on purpose. We are just amazing like that. There was a drag show that night, which just made my day; I have not seen one in a while. Jen, Liz and Liz other friend whose name I never can seem to remember, and I danced all night and a good time was had by all.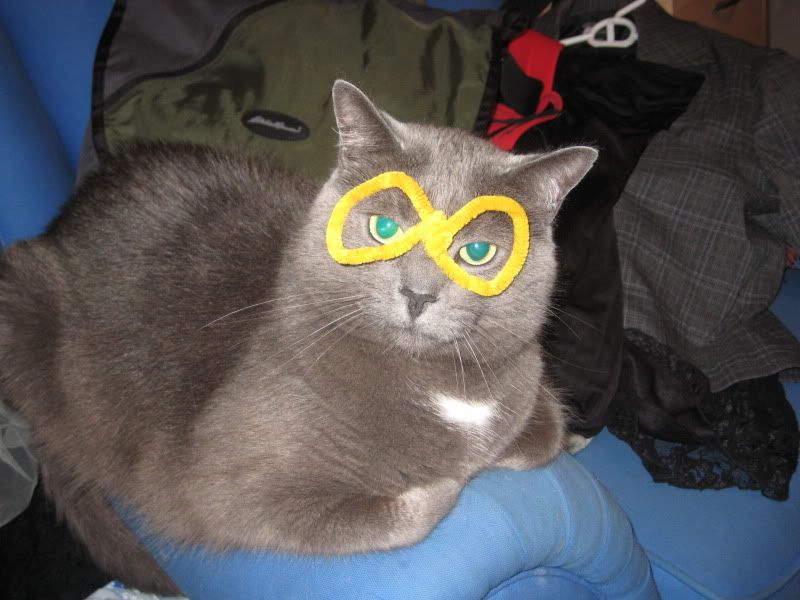 Cuteness. This is Marius.

I think I hear Jen stirring, better start thinking about my hair. I wish I could use my magic powers to make my hair stay curly all day, but I don't think that is possible, even with magic. Jen curled my hair once back in the day, and it was amazing, and held, so my hopes are pretty high. GA, but I have to hang out outside in the elements for an hour or so before going inside, I forgot. My hair is hopeless. I should probably just cut it all off and be done with it. All in good time. Like you even care.

Ok, gotta go Graduate.

"Sometimes you wake up. Sometimes the fall kills you. And sometimes, when you fall, you fly." ~the Neil Gaiman quote on my clip board.

~major7th~

Today is the smartest I'll ever be. It's all downhill from here.