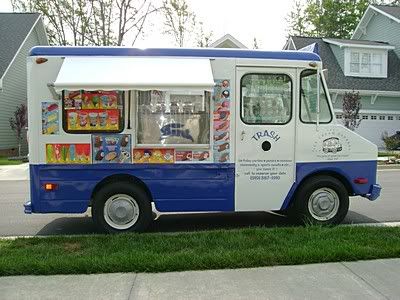 I was walking in a cemetery this afternoon and I heard an ice cream truck over the hill. I was just noting how strange it was that I was seeing so many familiar names in said cemetery such as Yost, Huggins, Dorsey and Hodges (none of which really should have seemed strange at all seeing as I am in Morgantown) when the creepily annoying tune of the ice cream truck drifted my way. I was high up on a hill, as is common in Morgantown, over looking the elementary school my friend Jen lives directly next to and the lovely hill beyond that and I kept catching glimpses of the ice cream truck as it drove past house through the trees. It was around 6:30 pm and I remember wondering, "Who wants ice cream at 6.30pm?" Then I realized I wanted ice cream, as I usually do, and remembered the fact that ice cream is not only an every day food, but can be consumed and enjoyed at all times of day. Silly me for doubting the ice cream man's methods. If I had not been so high up in a cemetery, I might has just hunted the truck down and gotten myself a chocolate éclair.

Today has been a full day. I woke up for the last time in the Townhouse and cleaned the downstairs, just for good measure. Around noon I went to Jen's to get the lay of the land, and the key. After Jen went to work I went back to the Townhouse (can't stay away) and went bike riding with Dawn. It took ages for us to pump up our much neglected tires with my little pump and in the end we had to go to the gas station to get them inflated properly. Annoying. I had to pay 75 cents for air. I am breathing air right now and no one is charging, why should I pay for the air going in my tires? But in the end it was worth it because it was a beautiful day and the ride was lovely.

After hanging out with Dawn at the house for a while, getting a frosty and checking out the WVU souvenir store near our house I was off again to bum around town till 6 when I could go back to Jen's and have the house to myself. That's how I ended up in the cemetery. First I tried hanging out in the grassy park type place between the rec and the CAC, but it was really muddy, then I put a cereal box puppet in Joe's mail box, and then headed back to Jen's road. The cemetery is on the way to her place, so I stopped by for a walk, because I adore cemeteries. When I got to the top of the hill which was as much of the cemetery as I could see form the road I saw grave stones as far as I could see; it is one huge graveyard. I got really excited and started walking around. That's when I heard the ice cream truck.

So now I am back at Jen's, chilling out with Arwen and Marius (the cats) and am about to see what is on TV. Most of my stuff is in my car, and I keep thinking of things I need, like my card reader so I can upload pictures of the cemetery. Not happening, car too far away, too lazy.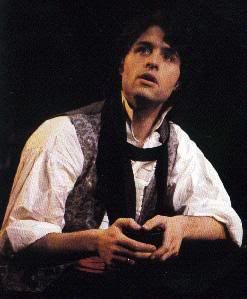 You get these instead.

I donated money to my class gift today. 30 bucks is getting my name on an archway or something like that in some park somewhere. Real specific, I know. I got an e-mail about it. I was sold when I read that by donating I would get my name "immortalized at WVU." You know me, always trying to be immortalized in some way shape or form. Mission accomplished, for now anyway.

"Ruby red her lips were on fire, do me with a kiss if you please."

~major7th~