What a creeper, the Mountaineer could so beat up this guy. Oh well, I can't have an awesome mascot every year.
Well folks, I got into grad school! George Mason finally got back to me, I have been on a waiting list for weeks now but I guess it was worth it. I have been accepted to GMU, home of the Patriots, Sharon Creech's alma mater and Ryan Allen aka the drag Queen homecoming queen; sounds like a pretty awesome place hu?
On the down side of today, I also got a letter saying that I did not get into the Disney College Program that Nicole and I applied for. I am REALLY bummed about this, I knew I should not get so excited about it but alas, I did. But it's ok, because GMU wants me. I just hope now what Nicole gets into Disney, which would be awesome. She has always wanted it more than I did anyway, she deserves it more. I mean come on, she is Alice!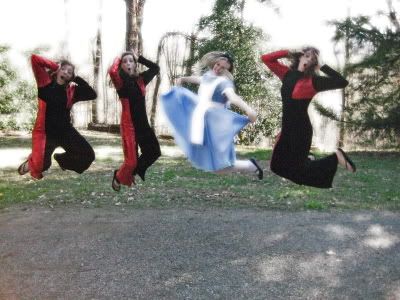 Yea, that's Nicole and a few of our guard friends. We did a whole photo shoot in the Arboretum the other day and then Nicole played with them in Photoshop on my computer. They came out really awesome, here are a few more: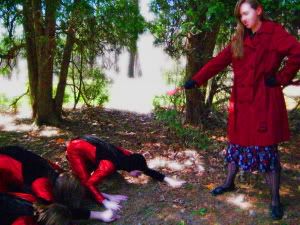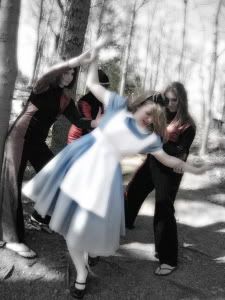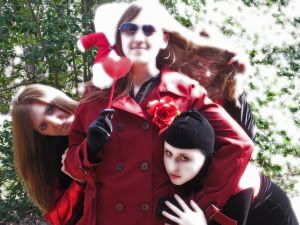 There are more on facebook if you are interested, they tell a story. It's basically Alice in Wonderland but with really creepy cards the like to stalk Alice and wear sunglasses. It was a fun day.
Here is what I get for having a fun day this weekend: NEVERENDING WORK TO DO THIS WEEK! I have a huge Public Relations project due on Wednesday, and I have to do a lot of the work because my group member's work they keep sending me is not up to par, not my par anyway. It's a gigantic project and they send me a few paragraphs about what they were supposed to be doing, what's with that? They are all nice and really smart, why can't they just do their part of the work well? I hate group projects.
I am really behind on my reading for my two lit classes. I hate going to class without having read the chapters, it's the worst thing ever. I had to do it today because I had no time to finish reading and it sucked. I hate not knowing what is going on. In general. In life. Always. There are just not enough hours in the day for me to feasibly read everything I need to read and write everything that needs writing and do all my group projects. I really wish, and have been wishing all semester, that I did not need to sleep. Think of all that we could get done if we did not need to sleep! If you are Bella Swan all you do with that power is have sex all night and then get up, have annoying conversations with your 'perfect' vampire family and then go chat with your strange hybrid daughter for all eternity. If I had an entire eternity where I did not have to sleep, I would get so much done. Bella can suck it.
I know what you are thinking, why is she writing a blog when she claims to have so much work do to? That is a great question, and I do have an answer. I can't force myself to work, usually. When I am not feeling it, it's just not going to happen, and if I do force it and it does happen, it won't happen well. Sometimes I have to work on something completely unrelated in order to really crack down later and get stuff done. That's why I always liked all my extracurricular activities in High School, they meant that I did not have to go home and do homework right away, which I would not have done anyway. I got to go do something totally un-school related like guard or band or OM or whatever, then I could do my homework. Same now, I have not changed. So that's my reason people. I tried reading my latest Science Fiction book (who's author on the back of the book is described as the James Joyce of Science Fiction. That's a horrible comparison! Telling people that the book is going to be as hard to read as James Joyce is not going to get people to buy that book; that was really poor marketing on someone's part) but it just was not happening. I will stay up late and read it, I don't have to be anywhere until 11am tomorrow morning. I'm good.
So this is my life of late, but it's about to get better. I have some huge life decisions to make soon, like about GMU mostly. After this week I will be practically done with school besides the final touches on my Capstone story (which is finished by the way, how exciting!) and my handful of finals. Then comes graduation. Then comes random summer fun. Then comes…??? Fill in the blank with your favorite crazy adventure.
My last concert band concert is tomorrow night, tear. That's a true tear by the way, I really am sad about it. That means I am a day away from never being in a WVU band of any sort ever again, how awful! Band has been such a big part of my life for the last 8 years, WVU band the most. I love it here so much I can't imagine ever going to another school, to be honest. I love this band more than lots of things. I almost shed a tear last night at our dress rehearsal, just because the music sounded so good on stage and our conductors were being so passionate about it. I don't want to leave WVU's band.
There are a lot of things about this school I am going to miss. LOTS of people. I actually made quite a few friends, believe it or not. Who knew I was capable of making friends, I sure didn't.
Is George Mason the right place for me? Who knows? Do they have an awesome mascot like the Mountaineer? No. Do they have sweet school colors? No, I have already been green and gold, I'm over it. Do they have a good English department? Yes, but do I know everyone in it and love them all? No, not yet. But honestly, am I really expected to ever love a school as much as WVU? No, I don't think so. I may end up liking GMU a lot, but I will never have a place in my heart nearly as big the one WVU has couch burned its way into creation.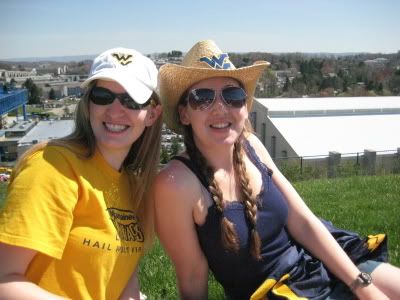 Ok, now that I have gotten this blog off my chest, I can get to work.
"Don't cry because it's over. Smile because it happened"
Whatever you say Dr. Seuss.
~major7th~