I was click click clickin around the English Department website the other day trying to figure out what the heck WVU wants me to give them to apply for their graduate program when I came across the new Creative Writing Brochure. Take a looksee:






Fairly lovely looking brochure. I think so anyway. The colors are nice and I like the font, but more importantly, that picture is just stellar. Look closer:






See anyone you know? I sure do. That's a picture of my creative non fiction class last semester. One of the English Department office ladies came in one day and took a bunch of pictures of our teacher Mark with our class pretending to have be having class. At one point she dragged us outside and placed us under the trees. It turned out pretty good; it actually looks like we are having class outside which we never did.

Don't be fooled, creative writing classes at WVU do not usually lounge outside and talk about our favorite books and writers and the world like they do in the movies. This was a fictional situation. Let's look closer.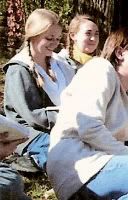 All you can see of me really is my decapitated head floating behind Nicole who looks quite lovely. We have the same hair style, happens often when you only have like three hair styles between two people. Being in the Creative Writing Brochure is even cooler for her because she is a Psychology major. So there English Department! We may be graduating soon, but our faces will be on the brochure until Mark retires! HA!

Too bad it's the worst picture ever taken of me in the history of ever. Oh well, I'll take it. It's still cool.

So, on a completely unrelated topic, I just found out last night that Guillaume Depardieu, son of one of my favorite actors Gérard Depardieu, died in October of pneumonia. Where have I been? I feel like this is something I should have heard about in, I don't know, October? Also, he only had on leg. Apparently it got amputated after a motorcycle accident. And he struggled with drugs. And has a cute little daughter. All I knew about him is that he had a big nose like Gérard and was also a good actor.

I actually own a few movies with Guillaume in them because he was in a lot with his dad, and I LOVE his dad. I felt like such a slacker when I found out he had died, and was depressed for the rest of the night. After I read it I went all over the net looking for articles and found out that Guillaume wrote an autobiography. One article said that it tells all these bad things about Gérard, how he was not around when Guillaume was little and how he was a drunk. It also said that Guillaume loved his father for the same reasons he hated him which I found interesting. I think I would like to read it, but I could not find it online anywhere so I bet it's not translated into English anywhere.

I love reading about real people. Unfortunately I don't have time to read lots of autobiographies, biographies and memoirs (or any other books for pleasure that is), but I love looking up articles online about my favorite actors and singers. Well, not when I find out that their sons died. I remember being outraged when I read about Oscar Wilde's life and how he was sent to prison for being flamboyant, leading to his weakened state and eventual death. He was such an interesting guy. Bobby Darin is another I love. Did you know he found out when he was grown up that his sister was really his mother? His story always gets me because of how he lived his life. He lived his whole life knowing that he could die any day because of his weak heart. He was not supposed to even grow up, and he went on to be one of the greatest singers of all time. Look him up sometime.

This blog went into a depressing decision. I always get sad thinking about how I will never get to meet people like Freddy Mercury and Bobby Darin. Not that I would have meet them anyway, but who knows? I might have.

RIP Guillaume Depardieu. Sorry I am late saying it.





"To die would be an awfully big adventure." ~Peter Pan

~major7th~